Starve Mode by Leigh Peele - Review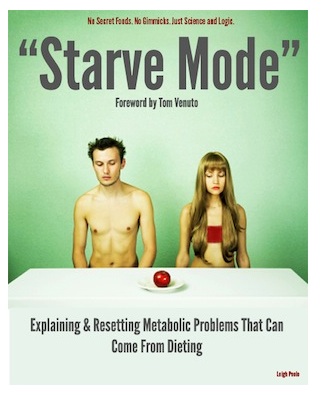 Well, it's about time! Leigh Peele has a new book on the subject of metabolic repair and refeeding called
Starve Mode
. The forward is by Tom Venuto. It's not just a revised edition of her classic Metabolic Repair Manual, it's a total rewrite. It includes many more personal stories of metabolic wreckage (adaptation, she calls it) and recovery. There is more hand-holding in this book. There are more detailed explanations of what to expect and why. It's written specifically for people who have dieted themselves into a corner and need to bring calories back up in a sane way. However, it's also of interest to anyone who wants to understand hormones, glycogen, water fluctuations, and the scale.
She offers two paths, one is for those who are burned out, overtrained, underfed, and deathly afraid of gaining any weight whatsoever (probably not possible, BTW, but this approach will help to understand and minimize weight gain). The other approach is for those who wouldn't mind putting on some muscle if they're going to be doing all this eating.
While reading it, I couldn't help but compare Leigh's conservative and methodical approach to some of the wild, wild west refeeding we've witnessed lately where already overweight people are forcing three or four thousand calories per day and still gaining. That's really not necessary! In fact, Leigh goes into quite a bit of detail about those calculators, activity trackers, and activity multipliers, and how a sedentary person with an office job may not need anywhere near what some of the calculators and trackers suggest. If you have a butt-sitting job and feel energetic and weight stable on 1,800 calories per day, that's legit. Nobody should report you to the World Health Organization or force feed you 2,300 just because the internet says. She talks about how damaging it is when people who are already shaky on this refeed idea are forced to deal with unnecessary fat gain and edema because they're trying to hit an inappropriate calorie goal. It can be so overwhelming that it sends them right back into severe restriction.
The book is over 200 pages and has 17 chapters on things like metabolic rate, calorie burn, macronutrients, metabolic disorders, thyroid, leptin, sex hormones, cortisol, water retention, refeeding, and not losing your mind. It's pretty sciencey but also an easy read due to Leigh's conversational style. I don't need to refeed but I still found it very informative. The thing that hit me between the eyes was the fact that if you eat more, you'll weigh more. I know, duh. But she's not talking about fat. She means that because I'm training hard and eating more, I will physically weigh more even if I'm leaner and smaller. There's the water, the glycogen, the weight of the food, and the muscle mass. Trying to keep the scale number down at all costs will actually compromise the goal of being leaner. Being fluffy and light is not the same as being lean. Lean weighs more. I'm completely babbling now, but Leigh really has a way of putting things.
Starve Mode
is set for release on Wednesday 8/21 at midnight Eastern time and will be on sale for three days. You can already download a sample and watch an informative little video with a drooling cartoon dog. I've used my affiliate link, so purchases will support both HappyEaters.net and my book/program buying addiction. Thank you!
Posted by skwigg at 11:12 AM CDT
Updated: Monday, 19 August 2013 11:27 AM CDT